18.01.12 - 5 Photography Trends to Differentiate Yourself from Competitors
Question: Are there long-term trends that we should be looking at for our branding? What are those trends?
Let's examine the definition of a business trend according to the BusinessDictionary.com: "a pattern of gradual change in a condition, output or process, or an average or general tendency of a series of data points to move in a certain direction over time."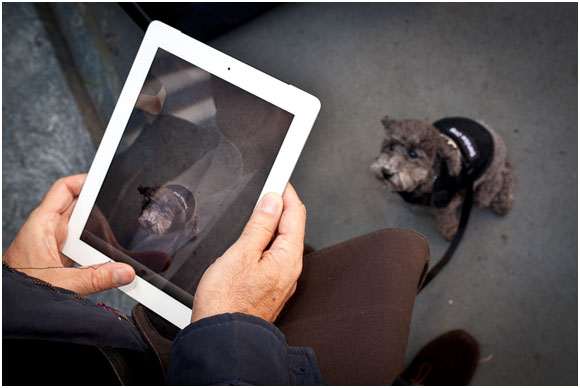 The Rise of Digital Over Film
The biggest trend in the last twenty years, without a doubt, has been the transition from film to digital. For better or worse, it is expected that every photographer who is estimating a commercial project will possess a complete understanding of how to seamlessly deliver and produce a shoot digitally.
The technological revolution is continuing at a warp speed, evolving and becoming even cheaper and more available to the general public. But the advances have also unfortunately downgraded the perception of the skill of the photographer, making it harder to distinguish the professional photographer from the "prosumer."
Print Portfolios are Not Dead, but Digital Portfolios are Here to Stay
The move from the print portfolio to the tablet/iPad is another rapidly advancing trend, considering that Apple introduced the iPad in January 2010. Many younger photographers I consult do not see value in a printed portfolio and exclusively use tablets to show their work. I still maintain that the printed portfolio is an important tool in your promotional material toolkit. While it is no longer required to have multiple portfolios, the ability to produce one on demand is something that can separate you from the competition when it comes to the final bid.
There is no denying that the level and sophistication of portfolios on tablets will continue to rise. That being said, it is necessary to embrace technology and choose a website developer that understands the necessity for your portfolio to be viewable across multiple devices, whether it's on a PC, Android or Apple product.
The Expansion of Photographers Learning to Shoot Video
Another trend is for clients to choose the same photographer for both the commercial and still shoot. When RED's revolutionary digital still and cinema cameras came onto the scene in 2008, many photographers began incorporating motion and still photography on their website. Clients began to realize that – in cost saving maneuvers – they could hire the same photographer to do both shoots. If you are comfortable shooting motion and have the ability to do it well, you should showcase this on your website.
Monitoring Your Target Audience Before They Know They're Targets
Directly marketing towards consumers based on their email click-through patterns, website selections, social media and networking usage will continue. Watching consumer patterns allows advertisers to refine their marketing strategies by directly targeting the individual most likely to use their product. In branding your website, if you can show how your images have and can be used in cross platforms, ambient media and interactively will increase your marketability and allow you to compete as new forms of media develop.
Print Magazines Continue to Fall as Digital Tablet Sales Rise
Companies such as Condé Nast & the Hearst Corporation have spent a considerable amount of research and advertising dollars in creating living magazines that the viewer can interact with. Subscribers can interact with streaming videos on how to create the perfect martini or train for an upcoming marathon over their mobile phone or tablet. As more and more magazines evolve on tablets, photographers who understand how to utilize this media will differentiate themselves from those who are not embracing the trend. Check out www.alexxhenry.com for some interesting uses of new technology. Alexx won the 2011 Cannes Gold Lion award for the iPad's first editorial interactive motion feature spread.
The consumer demand for live content will continue to grow by leaps and bounds. Photographers who can capitalize on this important trend, and offer suggestions to the client on how to bring their product to life, will be in high demand.